Press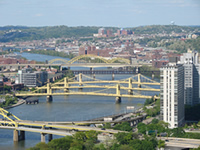 From the Pittsburgh Post Gazette:
Developer Eddie Lewis gave Joe DeMartino his first job out of college, and the O'Hara commercial real estate investor now models himself after the legendary builder of One Oxford Centre and Monroeville Mall.
"He was a gunslinger," said Mr. DeMartino, 40. "There are not a lot of people like that left."
Mr. DeMartino was among hundreds yesterday who attended the Shadyside funeral of the former Oxford Development Co. chairman, one of the last of Pittsburgh's old-school real estate risk-takers.
Other development giants gone in recent years include Jack Buncher, Joseph Soffer and Leonard Rudolph, all, like Mr. Lewis, from the generation of real estate executives who preferred a handshake to a signed contract and were willing to risk it all on a single new shopping center or skyscraper, thereby shaping the physical landscape of southwestern Pennsylvania.
Read the entire article here.
---